View the incredible sketches of the top 10 finalist of the #YDC20 and their story behind what inspired their designs
Bronwyn Grobbelaar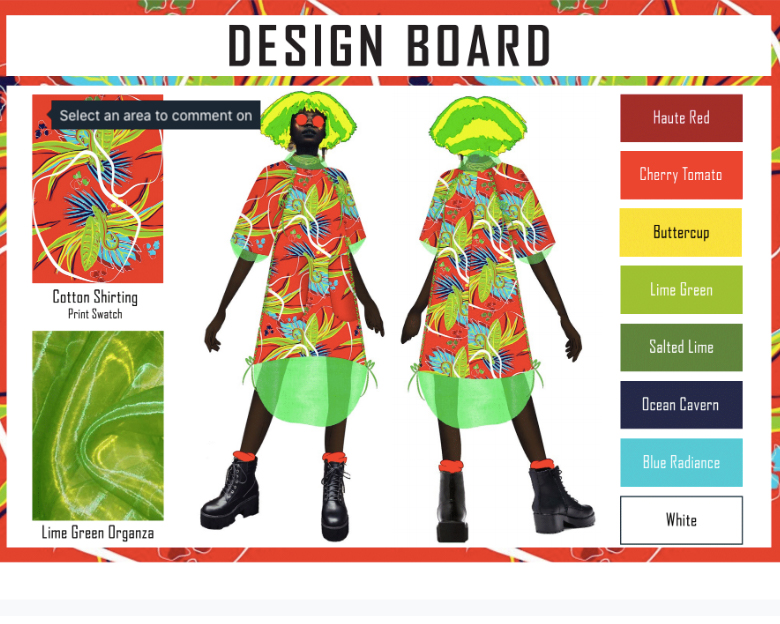 Africa's population is young. Most are part of the Gen Z generation. Gen Z's are becoming adults and joining the workforce and so, a large African Gen Z market is emerging. Globally, the COVID-19 pandemic has meant, among other things, that people must work from their homes. In the future this may be more common. This calls for youthful, comfortable clothing that has on-screen appeal for teleconference meetings (such as on Zoom).
I have decided to produce a youthful, non-binary design aimed at young adults and adults. This design is a loose-fitting, trapeze-shaped, tropical printed, cotton kaftan. It has raglan sleeves and lime green silk organza neck, sleeve and hem details. The raglan sleeve style lines and side seams are emphasized with lime green shoelace cord, woven through in a crisscross pattern through cherry tomato eyelets and tied in a bow at the ends. It has two large patch pockets on the front. The fit is loose enough that no openings are required.
African summers are hot. I have chosen to use cotton shirting and silk organza. These fabrics, and the loose fit, are made from natural fibres and are ideal for hot weather. Cotton is soft, breathable and absorbs moisture. Silk organza is sheer, lightweight and breathable. These fabrics can also easily be washed together. Silk organza adds an element of luxury to the overall sporty garment. Although silk organza is more expensive, I have used it sparingly in this design, keeping the garments overall cost within reason.
I opted for the "Vivid Tropics" trend and created an original print for the cotton part of the garment. This trend is not only striking, but I feel it is most in line with the fun, vibrant and youthful personality of Africa as a whole. I created this print using flat imagery of abstract, chunky, tropical leaf patterns and geckos in bold colours overlaid with white, flowy lines. The colours are Pantone Lime Green, Salted Lime, Buttercup, Cherry Tomato, Haute Red, Ocean Cavern, Blue Radiance and White.
Caitlyn Blofield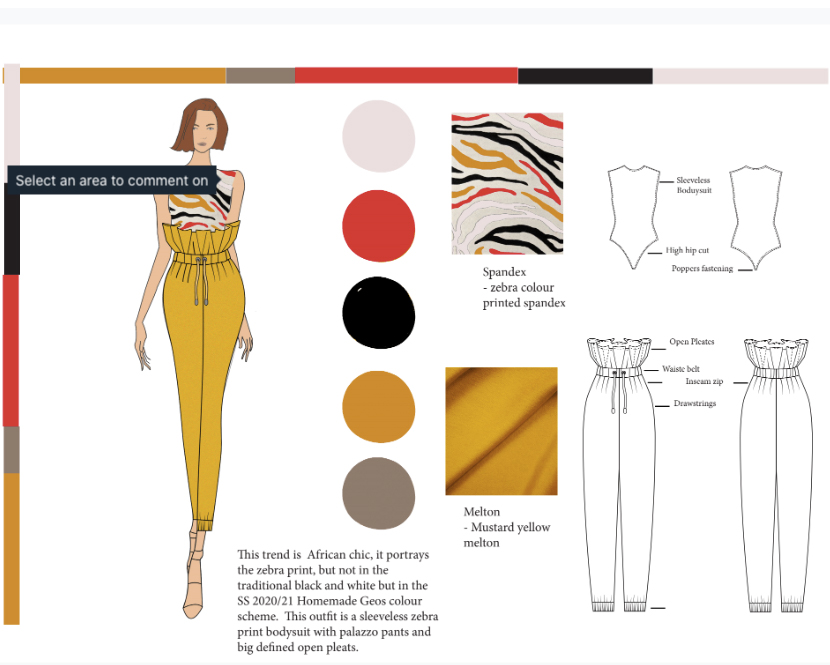 South African summers are filled with vibrant colours and bold textures. I will utilize the mustard yellow as a predominate colour. The red, brown, black and off white are used in the top bodysuit of the garment.
These colours represent the core colours in African wildlife and are predominant in my garment. I chose the zebra print but used colour to enhance the summer context. African animals are very important to the African heritage. In African heritage the zebra skin was spiritual and used in traditional rituals.
This trend is African chic, it portrays the zebra print, but not in the traditional black and white but in the SS 2020/21 Homemade Geos colour scheme. This outfit is a sleeveless zebra print bodysuit with palazzo pants and big defined open pleats.
Caylin Wilsnach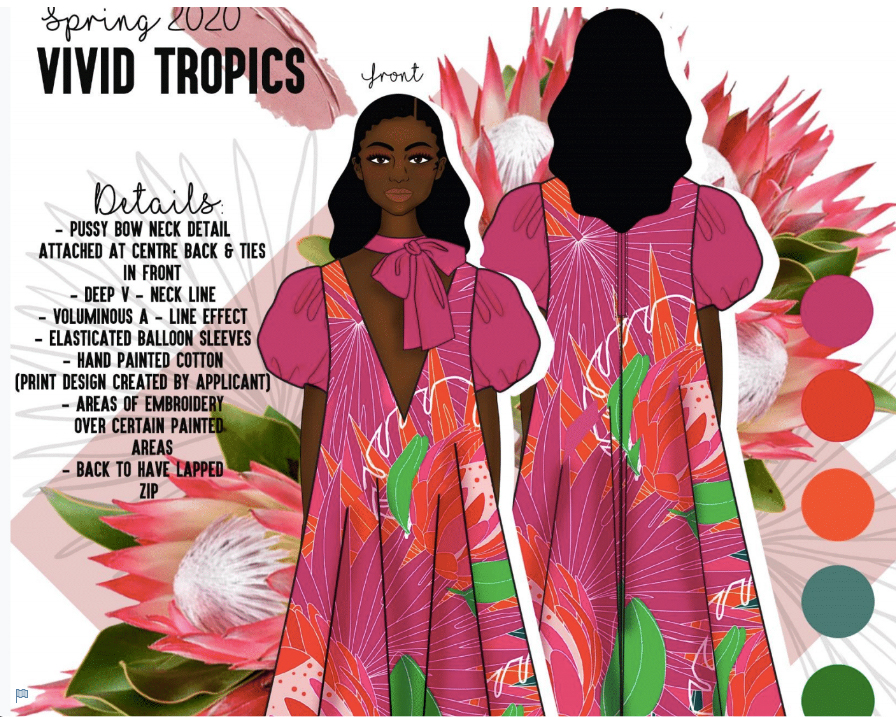 I have selected this trend as it most celebrates the African woman. An African woman is colourful and vibrant – she stands out from everyone else. She is the embodiment of natural. This design also represents a celebration of our country's natural beauty in terms of our flora. Understanding that this has a ready-to-wear, retail reference to trend, I wanted to incorporate something that would offer a feeling of both local and international in one design.
I observed this trend on the runway and looked at designers like Valentino & Versace and how they have interpreted this trend. I have brought the focus to South Africa by incorporating the Protea into a pattern that I have created. My aim is to hand paint this pattern design onto 100% cotton fabric in large scale. The design includes other tropical elements as well. A selection of areas will be continued with embroidery details to create a 3-dimensional effect of the painting/pattern and offering a tactile element to the garment. The inclusion of the contrast sleeve detail is to emphasize the design of the print and the silhouette of the dress.
I have designed a loose-fitting dress in a voluminous A-line silhouette to accommodate for South African summer climate. The bow detail in front can be worn tied or loose, which allows 2 styling options to the customer. The fabrication will be lightweight and the dressed will be lined. The bow detail will be attached at the centre back with a lapped zip dividing the separate bow pieces on either side. The balloon sleeves will be elasticated at the sleeve hem.
Dorcas Mutombo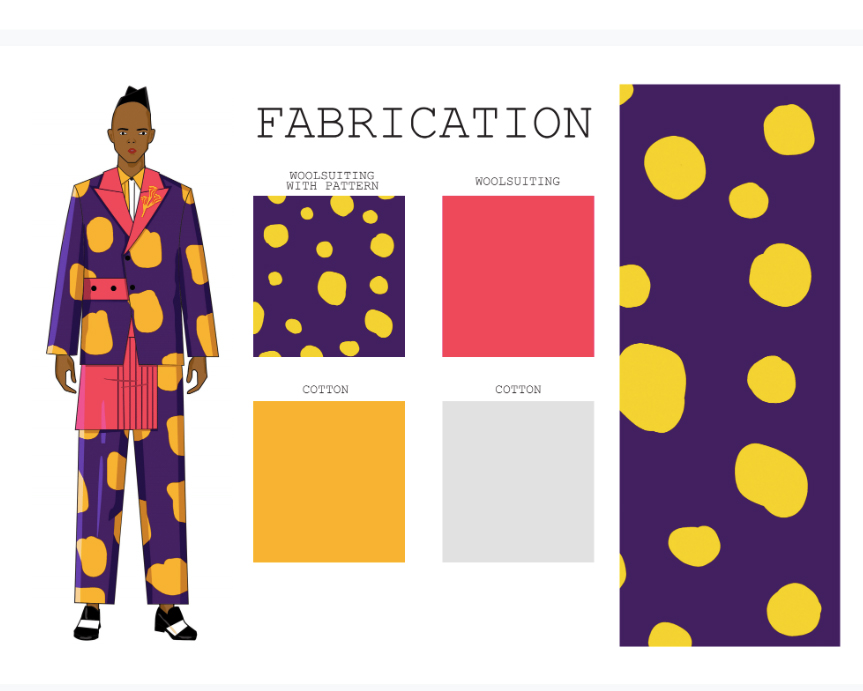 Trends are the most important part of fashion, especially modern fashion. As designers, we are always looking for something new and unique to create. As a designer I am not much of the trend follower, I would rather be a trend setter. I like to create according to my feelings and my liking of fashion and story I want to share with my consumer.
I am following the homemade geo's trend. This trend and textile technique will allow me to be more creative while keeping my minimalistic preferences, love of colours and simple prints. The trend will allow me to share my perspective of African fashion and story-telling.
Most African silhouettes I have seen around me are loose fit, relaxed and comfortable. The loose fit style has been a trend for a while as people really want to be comfortable at all time and have freedom of movement. Therefore, I am designing men skirts because men have worn skirts, shendyt and dresses since the beginning of time. These garments are comfortable, and this was confirmed to me by some men who choose to wear skirts sometimes as fashion statement or a daily wear and I think our modern men could try this trend without them being judged by others.
My colour choices are purple, mastered yellow and pink. Purple represents royalty, power and wealth which represent our beautiful continent with its rich culture. Mustard yellow brings us hope, peace, warmth and expression! As we all know, Africans are joyous people who are creative and self-expressive, especially through art and culture. Pink is a playful colour, that's bright and sweet. The African continent is full of culture, talents and great stories to tell and this is our time to share these stories as we best know them.
Gabi Rose Bezuidenhout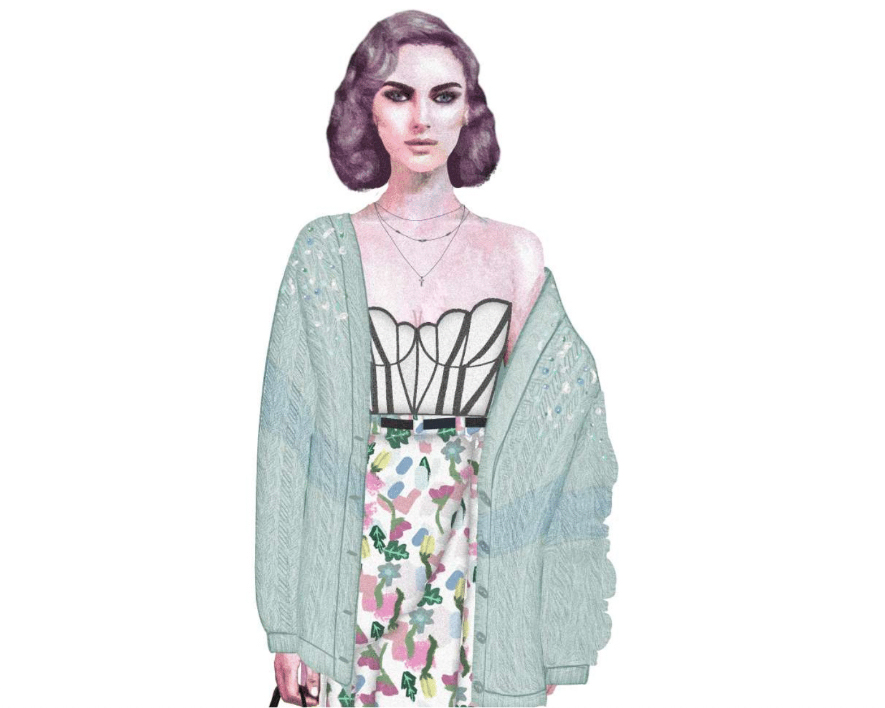 I have chosen to explore the Ink & Paint pattern trend to inspire my design. I have always loved art and was immediately drawn to this theme, and the idea of artistic florals. I was specifically inspired by the work of Henri Matisse, a fauvist that painted in flat plains of colour and organic forms, as well as Edvard Munch, an expressionist that also used organic lines and shapes. 'Organic' in this context means free-form, unpredictable, and flowing in appearance.
I developed an original print made up of expressionist flowers. I used organic forms and muted colours. I incorporated this print in my mood board with the greyish blue and yellow flower elements, and the model's shirt silhouette is filled in with the pattern I drew those elements from. I also added some inky splotches and brush strokes that represent the black accessories that pull my look together.
The mood or 'feel' I aimed to communicate is quaint, playful, and youthful but with old-world charm. I love vintage fashion. It has a nostalgic appeal and can add a softness to a look through muted colours or pastel hues. I brought this softness into my design. I also love that it's one of the easiest ways to be sustainable with fashion. When sewing up a completely new design, it is important to remember that a good quality garment that is loved and well looked after can last a very long time before it has to be recycled.
My design has vintage aesthetic elements but is refreshed with modern styling. The oversized cardigan may remind you of something your grandad might wear, but the beads and charms knitted into it makes it unique and new, and adds an African touch. The pleated skirt may remind you of your grandma, but again, it is refreshed by modern elements – being the print, with African vibrancy, the asymmetry of the pleats and the yoke, and the styling. The black and white satin corset finishes the look, adding a young and sultry feel to balance the look. It is styled with a black petticoat, handbag and belt; colourful sheer socks; and black strappy kitten heels. The black grounds and modernises the look. I imagine a young woman wearing this outfit on a cool Saturday morning as she walks through a flower market on her way to visit an art gallery in a bustling South African city. As the day heats up, she can take off the cardigan, and catch some of our glorious sunshine on her arms, shoulders and décolletage. In this look she steps into the romantic side of Summer, keeping the 'arts and craftiness' so natural in the South African aesthetic, while still staying current with global trends.
Hannah Wilson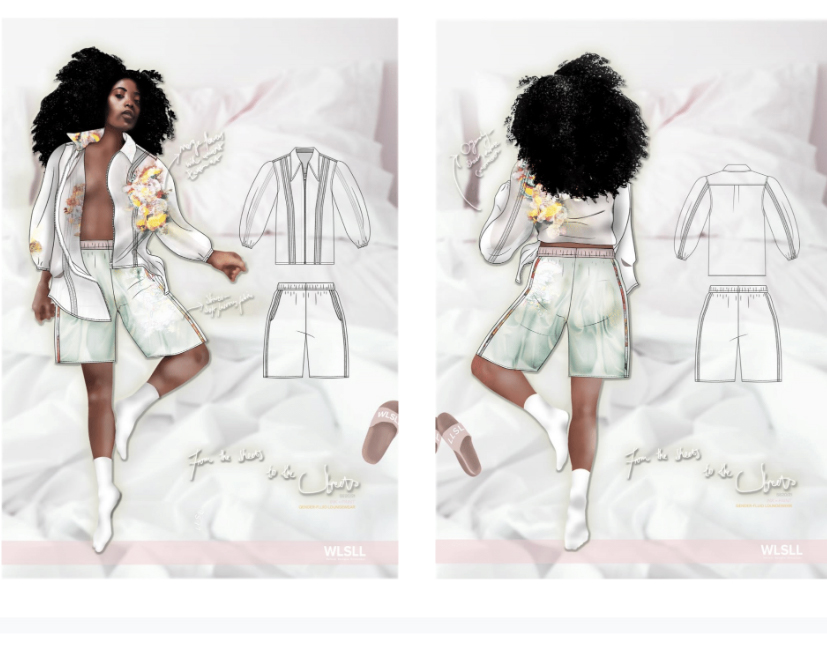 Lockdown has influenced my choice of silhouette and style. I want my look to be loose and comfortable enough to be worn in and around as well as outside of the home. The surface design must enable the wearer to feel special as though the design is custom-made a haute couture feel. There is a perception with working from home that outfits can become frumpy – especially when one is social distancing. I want my look to reflect sexy sort of second skin or pair of pyjamas.
The poppy oil painting featured in my boarders has been the focal point of my living room for as long as I can remember. It was gifted by the artist himself to my parents shortly before he died. It has been one of our most treasured possessions ever since. I intend to incorporate the sensitivity and style of this work in the fabric manipulation of my look through painting and dyeing on sheer and/or light, 'breathable' fabrics, such as the organdie I intend to use in my shirt design.
There is a flamboyancy in contemporary menswear which I would like to emanate in my look. Bulbous sleeve, inky and soft paintings on the surface of the fabric are some aspects I will delve in to achieve this in my shirt design.
The shorts are inspired by ones seen on high-end brands' runway shows such as Versace and Louis Vuitton who have used satin in the 'boxers'/shorts design. This enables the design to evoke a feeling of luxury without being costly meaning that it can be incorporated effectively in a retail capacity. Gender-neutrality is hot particularly in sportswear and appeals to a younger market (young adults).
The open seams down the shirt should evoke reference to sportcore aesthetic as well a margiela-'esque' deconstructivism feel. The seams will be lined with binding to refine the edges. This will also enhance the linear aspect of the design.
"I love the image of a woman looking in her boyfriends' wardrobe for something to wear. It inspires my choice of silhouette and style."
Jacques Bam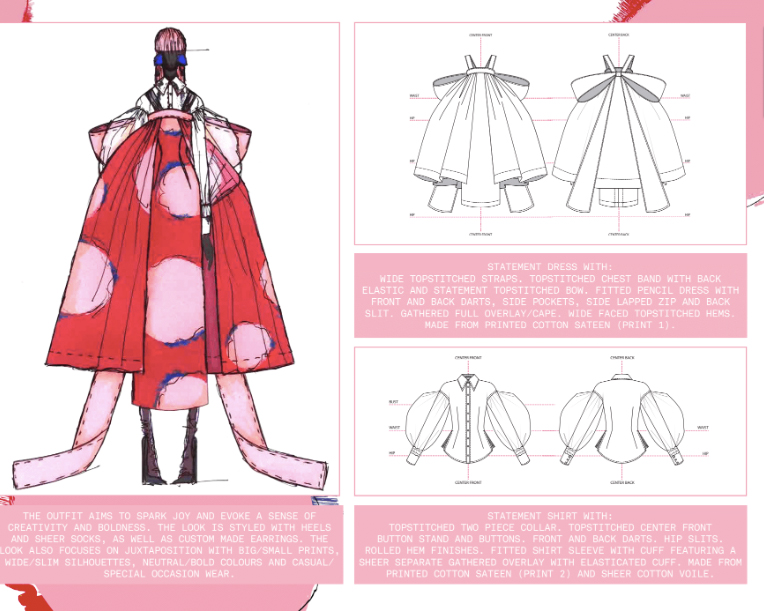 Using digital drawing techniques inspired by South African artworks, the following repeat prints were custom designed to fit into the homemade geo's theme. The prints aim to speak to the vibrancy of the South Africa consumer, inspiring a boldness and confidence in attitude, focusing on ideas of creativity, expression, spiritedness and joy. All prints will be printed locally on cotton sateen.
The outfit aims to spark joy and evoke a sense of creativity and boldness. The look is styles with heels and sheer socks, as well as custom-made earrings. The look also focuses on juxtaposition with big/small prints, wide/slim silhouettes, neutral/bold colours and casual/special occasion wear.
Statement dress with wide topstitched straps. Topstitched chest band with back elastic and statement topstitched bow. Fitted pencil dress with front and back darts, side pockets, side lapped zip and back slit. Gathered full overlay/cape. Wide faced topstitched hems, made from printed cotton on sateen.
Statement shirt with topstitched two-piece collar. Topstitched centre front button stands and buttons. Front and back darts, hip slits, rolled hem finishes, fitted shirt sleeve with cuff featuring a sheer separate gathered overlay with elasticated cuff. Made from printed cotton sateen and sheer cotton voile.
Mbalenhle Mncube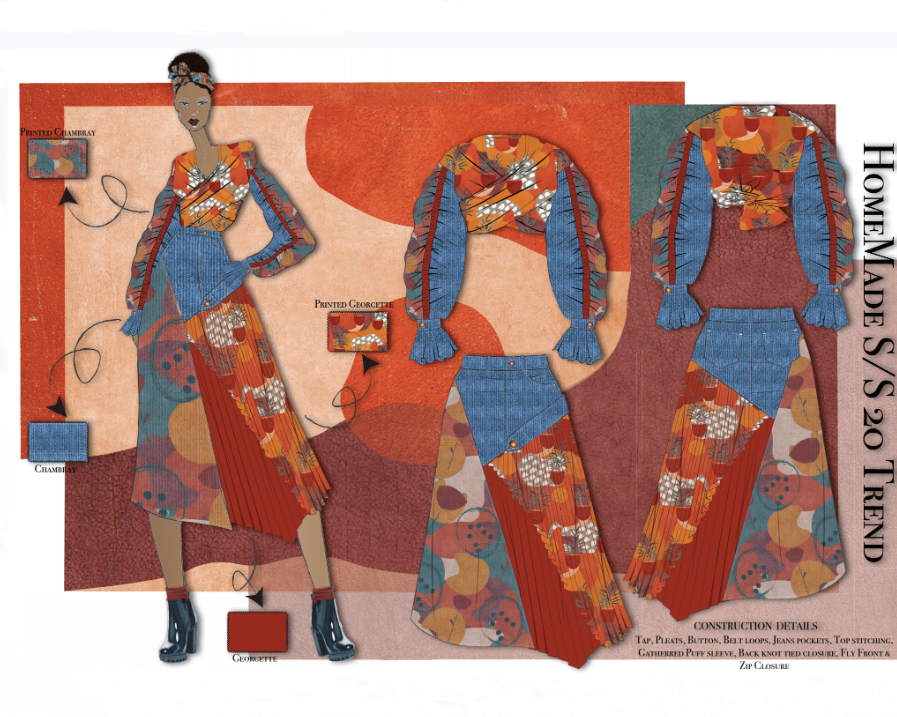 Hand-rendered prints are set to have the enormous moment, quickened by the rise of remaining home cra­fting and consumers adjusting their fashion choices to imitate their way of life and tasteful style, as outlined in Home Made S/S 20. Africa's rising abilities for motivation around conventional and dynamic designs with subcultural references in plans. Brushstrokes made cut-outs, and negligible mark-making all apply, advertising a welcome upgrade to centre prints such as ‑ orals drawings. Customers start to feel more confident buying into statement-making bold summer prints, shinning will have a broader offer and supplant pared-down tones. Completely grasp the maximalist slant in womenswear by portraying with strong brush strokes, utilizing striking sums of colour.
The Look & Colour: African bold colours, modern but still traditional and stylish. Over overstated sleeves and pleated and printed Georgette fabric paired with a denim-like texture (Chambray Fabric). For S/S 20, African colours gotten to be bolder and less equivocal. Tones start to cut through the clamour and make an explanation. Classic centre colours ended up bold tones as summer tints are created. Overall colour choices feel bold and clear. Inspiration moreover comes from a celebration of different Africa regions.
Inspiration: The story behind the plans and prints offers key messages all through S/S 20, which appear the beauty, bold colours, and uniqueness of African design. As directed in S/S 20 Homemade GEO'S Design mood-board, painted lines, drawn hexagons and aesthetic geometry take on bold colour blocking whereas painterly odd ‑ orals utilizing expressive brushstroke techniques gesture to the return of hand-rendered strategies. The bolder the colours the way better for this story. Focus on stylized designs with level vector prints in pops of bold colour. The trend takes more prominent motivation from neighbouring African nations such as Mali and Zambia.
Markets: Women's and Young Women Contemporary / Casual / Outerwear/ street style
Timing: Spring/ Summer
Morgane Lamport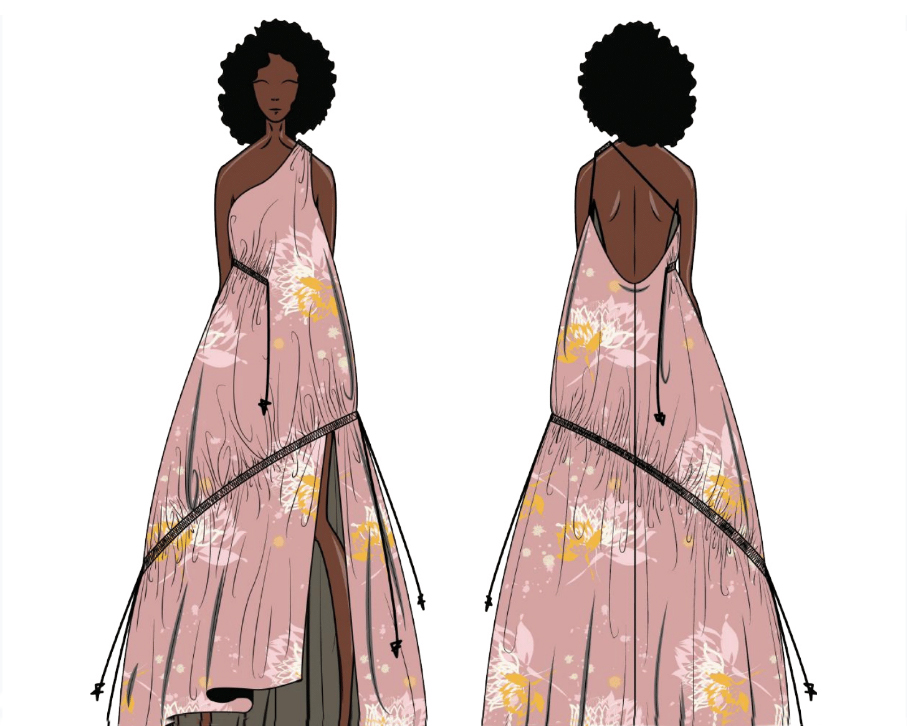 Sugarbush Spring Summer 2020 is a sub-trend of Ink and Paint inspired by the South African woman. The Sugarbush, here referring to the Pro-tea, is in itself the essence of the South African femineity with its many layers of petals, it implicitly invokes the intricate nature of women. The protea in addition to being the South African national flower symbolizes hope and change making it an ideal reference considering the cur-rent global situation.  The look and feel of the trend are predominately romantic with a sprinkle of exuberance. It also showcases a level of sensibility and empathy recently rediscovered by the global population. The shapes and silhouettes are reminiscent of the shape of the Protea itself, oval obviously but also flowy and feminine. Different fabrics of natural components such as cotton and silk are layered, hand-painted, and hand-embroidered to match with the sustainable and natural in-spiration of the trend as well as the current zeitgeist.
The artistic floral repeat pattern consists of several stylized exaggerated Protea flowers layered on one another, the pattern is block printed by hand onto the fabric and paint is splashed randomly onto it for a more organic feel. In terms of colours; pastel hues highly influence the trend namely different tones of pink and yellow. The trend includes details such as gathers, ties, and drawstrings that to some extent humanizes sizing making the clothes adjustable and therefore more realistic. Since the South African woman is at the heart of the trend, it is specifically imagined for her lifestyle. When put in situation this trend must allow any woman to go from family gatherings to dancing the night away at a rooftop bar in Maboneng on a hot Sunday that only Africa serves. Dressed down or dressed up the trend has as many variables as needed in a woman's wardrobe making it the ultimate stable this summer of freedom and exploration.
Sinazo Janda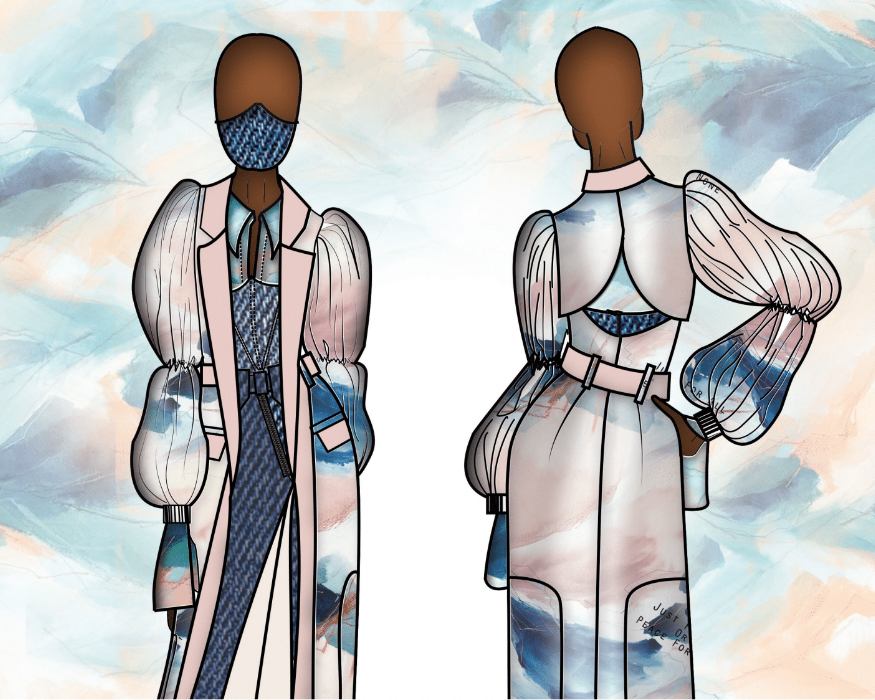 My retail inspire aesthetic is highly influenced by the effortless look minimalistic fashion evokes and the trend ink and print. It's soft feminine water paint print on satin fabric stimulates the notion of the sky and ocean just before the sunsets. I wanted to create a look that could be trans-seasonal. My looks personality is one that is gentle, friendly and non-threatening. Her style reflects a character that radiates warmth and nurturing. The denim elements contrast with the soft satins creating a look with depth.
The key trend details I focused on was the statement sleeve, which has been seen on social media and on the runway. And I wanted to add elements that hint a bit of masculinity. I created this by adding an exposed metallic zip to the jeans and metallic press studs to the satin coat.