allfashion sourcing alongside SA Menswear Week as part of the Week of Fashion in 2022
This year's allfashion Sourcing took place on the 29th of September, 30th of September, and 1st of October.   This year's was hosted at a venue called Wonderland Film Studios and was available exclusively to a maximum of 50 stands.
The event continued to be a fashion/ footwear/apparel/accessories showcase.
For the first time in 2022, allfashion Sourcing exhibiting companies were able to sell their goods directly on-site to the Week of Fashion and SA Menswear Week audiences. The allfashion Sourcing trade audience was targeted to facilitate any potential business deals for the exhibiting companies.
There was a great synergy between the two events which served as an incredible platform for both the allfashion Sourcing exhibitor audience and the SA Menswear Week and Week of Fashion audiences.
This was an extremely valuable opportunity for companies to showcase products to the wider fashion community in South Africa.
2022 Collaboration with SA Menswear Week and Week of Fashion
What was available at allfashion sourcing Cape Town this year: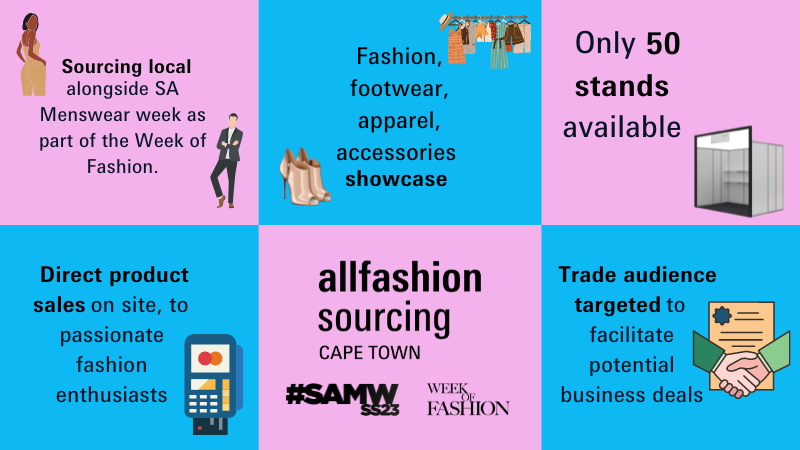 Here's what people had to say
"Great show - well managed and organised."
"The overall event was an amazing experience for young upcoming fashion creatives like myself."
"We did value the exposure to other possible local suppliers in the industry."
"The leads we have as By Ele, I do believe they will bare many fruits ."