allfashion sourcing alongside SA Menswear Week as part of the Week of Fashion in 2022
We are extremely excited to confirm that allfashion Sourcing will take place on the 29th of September, 30th of September, and 1st of October.   This year's edition will take place at a venue called Wonderland Film Studios and will be available exclusively to a maximum of 50 stands.
 
Some background on this event - it will be a fashion/ footwear/apparel/accessories showcase.
For the first time in 2022, allfashion Sourcing exhibiting companies will be able to sell their goods directly on-site to the Week of Fashion and SA Menswear Week audiences. The allfashion Sourcing trade audience will still be targeted to facilitate any potential business deals for the exhibiting companies. 
There is a great synergy between the two events which will serve as an incredible platform for both the allfashion Sourcing exhibitor audience and the SA Menswear Week and Week of Fashion audiences.

This will be an extremely valuable opportunity to showcase your company's products to the wider fashion community in South Africa. We are certain this collaboration will deliver fantastic results to all 50 exhibiting companies.
Read on
2022 Collaboration with SA Menswear Week and Week of Fashion
What to expect at allfashion sourcing Cape Town this year: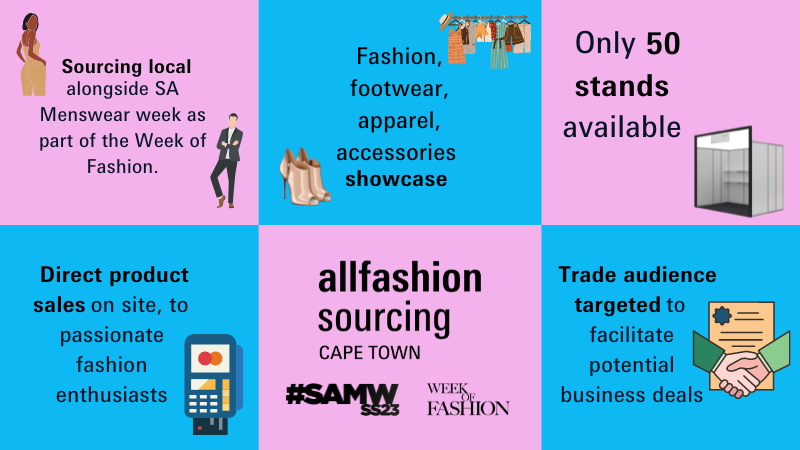 Here's what some of our visitors have to say
"The event is ever changing. There is always something new to experience."
"A wonderful display of apparel, textiles and footwear. With lots of sourcing opportunities. The fashions shows were great."
"The event delivered a wealth of value to all who attended. From an extensive array of service providers representing all aspects of the textile industry, to cutting edge business and trend presentations. It is truly the source of the future textile industry."
"Great event with a variety of products and many opportunities for sourcing, and collaboration."
"Thank you to the organizers for giving us the opportunity to exhibit as a pavilion and display our products. The organizers were very supportive and we look forward to working with Messe Frankfurt again."
"An amazing show, especially the variety of exhibitors that were present and the workshop content."