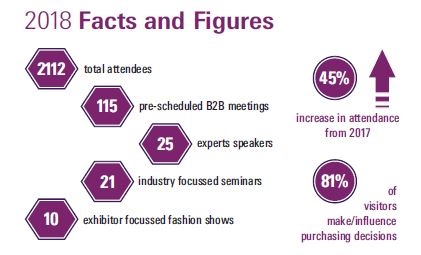 Source Africa 2018  show was a success with the introduction of a number of industry focused seminars and workshops delivered by top industry experts, the launch of a Young Designer's competition and a Graduate Showcase.
We invested over 200% more on marketing, which included the introduction of new channels such as billboards, radio campaigns and a more focused digital campaign. We also had a dedicated research team who, over three months, researched and qualified new visitor data. During this period, over 1900 new records of retailers across Africa were added to our database.
These efforts paid off, with an increase of over 45% in the number of visitors attending the event and an 80% increase in total attendees (including exhibition staff).
"Source Africa delivered a wealth of value to all who attended. From an extensive array of service providers representing all aspects of the textile industry, to cutting edge business and trend presentations. It is truly the source of the future textile industry."
"The event is ever changing. There is always something new to experience."
"With a line-up of over 20 high-caliber speakers and a host of local and international exhibitors, Source Africa is the ideal platform for buyers, sourcing managers, technologists and retailers to benefit and learn from each other through interactive discussions and networking opportunities."