Co-Founder, One Of Each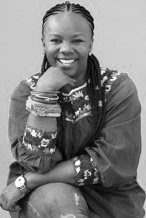 Tamburai Chirume is the co-founder of the mother and daughter design collaboration, ONEOFEACH - an African luxury brand that focuses on luxury leather and African inspired handbags designed in Cape Town and available to the world. ONEOFEACH has gained recognition in the international space, supplying over 17 outlets worldwide, Including the British Museum and the George Washington University Textile Museum. Tamburai is passionate about turning creative arts into profitable business. She is also an alumna of the African Women Entrepreneur Program run by the U.S. Department of State. 
Seminar Session
Date:     5 November 2020, Thursday    
Time:     10:00
Topic:     Sustainability  Lead Fashion - Myth or Reality. Sustainable Fashion – Our choices really can make a world of difference and is Sustainability a priority and a reality for fashion morning forward or is it myth and corporates being suitable based on legislation – or it is a fundamental priority for some?