Chief Executive, Imprint Luxury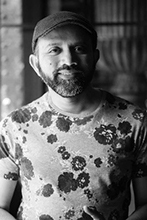 Cyril Naicker is a sought-after fashion consultant, mentor and influencer in the South African fashion space. He is often called upon to speak at events or write for prominent international fashion publications. A fashion Designer by qualification, he has spent the last twenty years working in almost every aspect of the fashion industry. He has built an exceptional reputation for his ethical stance on fashion and has become one of the trailblazers leading the sustainable fashion movement in South Africa. Cyril currently serves as the Chief Executive Officer at Imprint Luxury. He is a founding member of Fashion Revolution Cape Town and is currently the Country Coordinator for Fashion Revolution South Africa.
Seminar Session
Date:     5 November 2020, Thursday    
Time:     10:00
Topic:     Sustainability  Lead Fashion - Myth or Reality. Sustainable Fashion – Our choices really can make a world of difference and is Sustainability a priority and a reality for fashion morning forward or is it myth and corporates being suitable based on legislation – or it is a fundamental priority for some?